From the dustjacket:
"In The Book of Clouds, John A. Day, known around the world as the Cloudman introduces, or reintroduces, us to earth's great skyscape. His spectacular portfolio of cloud photographs forms the centerpiece of these glorious pages. A stunning cloud chart, an explanation of how clouds form, hints on forecasting, observing and photographing clouds, and his 'Ten Reasons to Look Up' (the first one is, 'It's the greatest free show on earth'), show us how to use our 'inner eye' to really see the familiar fleeting forms that seem to float effortlessly above."

Available through Barnes & Noble online or local bookstores



The Book of Clouds
208 Pages Hard Bound

Check online or local stores
for current prices

Peterson Field Guides™ -- Atmosphere was written by Cloudman, John A. Day, with friend, Vincent J. Schaefer, and has detailed information,charts, and photographs of meteorological phenomena accumulated over years of laboratory, field and flight experiences.
Peterson First Guides™ -- Clouds and Weather is a simplified field guide to the atmosphere with information and photographs designed to introduce the science and aesthetics of the sky.

Available through Amazon.com or most large bookstores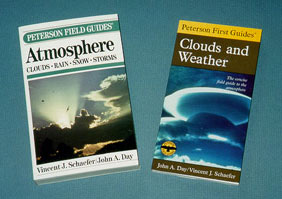 Peterson Field Guides™ --
Atmosphere
359 Pages/ Soft Bound
Retail $16.95 USD
Peterson First Guides™ --
Clouds and Weather
128 Pages/ Soft Bound
Retail $6.95 USD
Check online or local stores
for current prices